Discover more from Gen Dread
A newsletter about staying sane in the climate crisis.
Over 17,000 subscribers
To have a baby or not: BirthStrike changes name to evade racist affiliation
Activist group gets the message across that what they're really up to is 'Grieving Parenthood in the Climate Crisis'
Heya!
Welcome back to Gen Dread, your totally independent newsletter about the emotions that the climate crisis creates and how to cope with them. I do this for free, and I do it for eyeballs that are connected to brains that need to know this stuff. Can you please help me spread the word by emailing this to your networks, professional organizations, friends and family, who you'd like to see get in on the real talk? 
I hope you haven't been affected by any of the recent climate disasters that much media is infuriatingly not attributing to climate change, despite clear evidence proving the connection. And if you have been affected, I sure hope you're keeping safe. 
Growing pains for BirthStrike
This week I'm honing in on a big shift that recently occurred in the world of reproductively reluctant climate-realists, specifically concerning BirthStrike. BirthStrike was launched a couple of years ago in the UK by millennial activists who had come to the conclusion that the world we are creating - of runaway climate change - is not one that is safe to bring children into. Rather than try to make other people care about their private concerns, their point was to make a political statement. Using their bodies and philosophical attachment to the future, BirthStrikers declared that they will not subject new humans to our unfolding system of world destabilization until governments demonstrate that they are willing to prioritize human life by taking appropriate climate action. 
I interviewed its founder, Blythe Pepino, for my forthcoming book. She told me how her education about the latest climate science made her heartbroken to feel like she could not have a child with her long-time partner whom she loves. I could deeply understand where she was coming from. I've been sitting on the precipice of "do we have a kid or not" for a few years now, and the only reason why this decision is so drawn out and painful is because ecological breakdown - and its messy social ramifications - are becoming less avoidable. It feels impossible to happily bring a kid into the world when I take what the science is saying - and inadequate action is creating - to heart. The alternative available (for me...as this stuff is personal) is to bring a child into the world with a sorrowful embrace, an endless string of sleepless nights, and a lifetime of even more intense focus on fighting this awful crisis than I am already involved with. I'm still weighing out what mix of that load I can take (and I very much want a child). At the same time, I can feel a big part of me that is becoming more punk rock. The Britt who says, eff it, let's create more life and not let powerful polluters take that from us too! That's the thing about dilemmas though. They're impossible to answer in a way that feels "right".
Existential threats have always shaped family planning, whether we're talking about nuclear war, systemic racism, or now, climate change. It makes sense. But it also makes many people extremely uncomfortable. BirthStrikers have been called every name in the book, from 'nutters' and 'libtards' to the 'not even worthy of being raped'. But Pepino says the backlash also conjures "even darker stuff, like, oh stupid white women not having babies, they're contributing to the Muslim takeover." Conservative discourse about their approach to advocacy has been thoroughly racist, misogynist, and abusive. 
But I said I'd talk about news… so here it is: they're no longer called BirthStrike. Why? In a document uploaded to their Facebook page that announced the decision in August, they explained that the name Birthstrike "did no end of harm in allowing us to be aligned with the ​'overpopulation' topic​." BirthStrike has no interest in blaming our ecological trajectory on the number of people we are in the world. Their focus is on the way we consume. The population argument has often been weaponized by organizations in the Global North to point fingers at places in the Global South where birthrates are higher, even though the carbon footprint of each person born there is a mere fraction of that of the people doing the finger pointing. BirthStrike, a product of the UK middle-class, wants people like them to look in their own backyards and at their own governments, to push for policies that transform systems and the very way in which we get our energy. They don't want poor people to stop having kids, and they are distressed at how they lost control of their own narrative.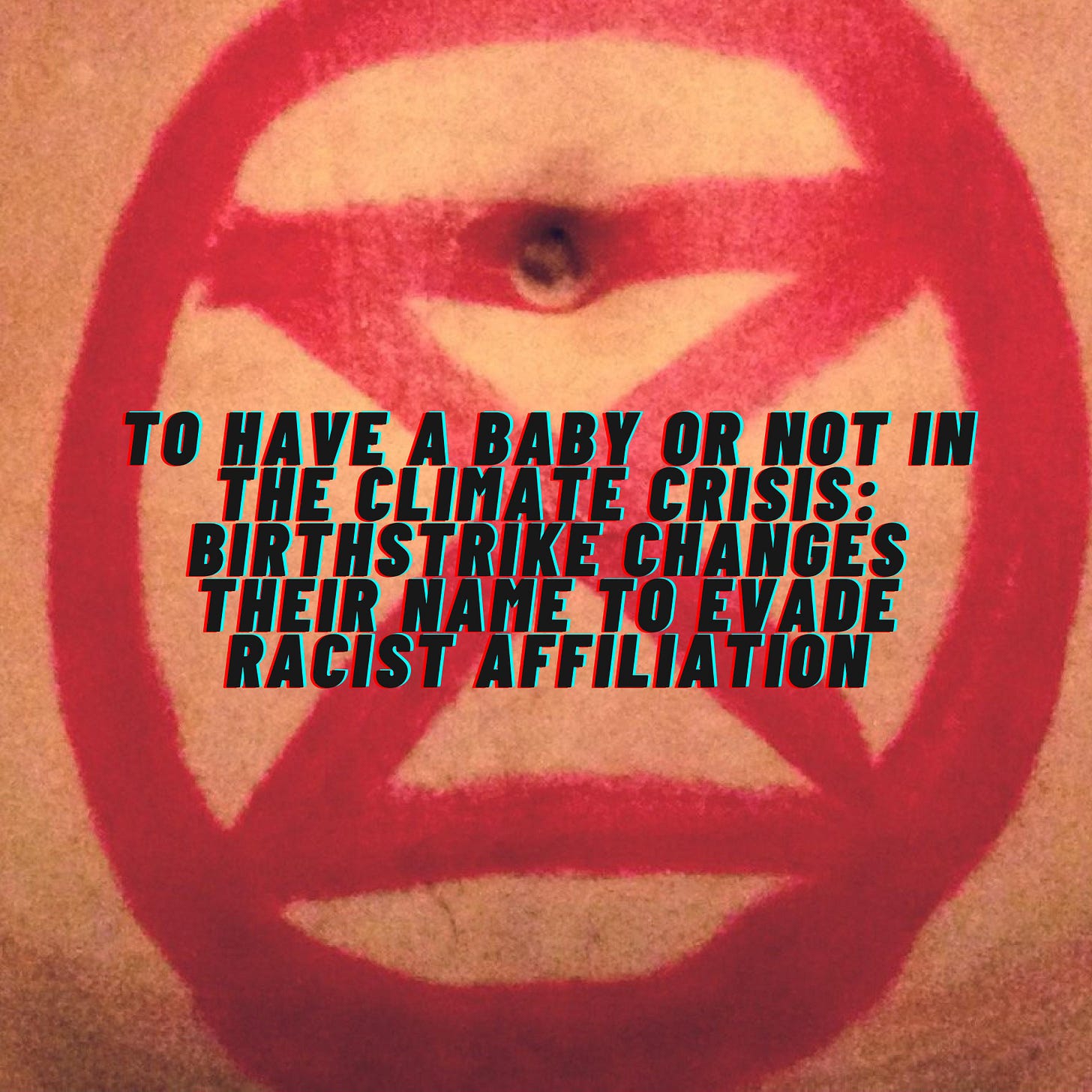 They have been affiliated, time and again, with population control campaigns that border on eco-fascism. At the same time, they've been surprised at how tightly other climate advocates cling to demographic arguments that focus on numbers of people without taking consumption into the equation. As they write, "we underestimated the power of 'overpopulation' as a growing form of climate breakdown denial - even in some of our most revered scientists and fellow climate activists."
In the wake of the George Floyd protests and broader uprising against racial injustice, the organizers realized they could not take the risk of causing more harm through their uncontrollable narrative and its racist affiliations. Their politics draw the connection between ecological devastation and the white-supremacist male-dominated system that took hold during the colonial era and allowed environmentally-toxic industries to flourish, as well as racial domination. Their name change is an attempt to do better by this tenet and become more inclusive. As they wrote, "It's easy to become so focussed on raising the alarm for the future, that we sometimes forget how unevenly people are already affected, and the ways our own methods of activism may exclude others".
On September 1st, they deleted their twitter, tumblr, instagram and database, but left their website up as a historical archive of the group's existence. They've since morphed into a group called "Grieving Parenthood in the Climate Crisis: Channelling Loss into Climate Justice". If you'd like to join, you can do so here.
---
Want to contribute to research about how people are feeling in the climate crisis?
A research group in the Department of Psychology at the University of Kansas in collaboration with The Resilient Activist are interested in knowing more about how people such as yourself are handling the climate crisis. If you're interested in taking part in their emotionally-attuned research, you can sign up to attend one of their focus groups happening this month on the right side of this page.
---
That's it for this week. But let's leave off on a laugh about a sentiment that is just too true right now:
The top story about California shouldn't be the Tik Tok kids' house!!
Do you like what I'm dishin'? Then please oblige by my wishin' and:
Have a great week!